SplashEye has been creating WaterSki Software for over 25 years.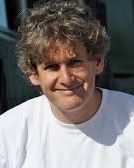 Donal Connolly – Owner and Creator of SplashEye
With over 150 installations in 19 countries we are the experts in Scoring systems for all WaterSki disciplines for Training and Competition.
Jump was the first product and the system was used to record the Ladies 5' World Record that still remains in place today.
Our goal has always been to automate wherever possible. This allows the system to be used as a powerful Training Tool but also dramatically simplifies the judging process in competitions.
Slalom Gate judging was launched in 2008 followed by the full Slalom Suite in 2010.
In 2013 Automatic End Course with driver feedback was launched.
Work is now continuing on eyeTrick, a revolutionary way of judging Tricks in realtime and on the next generation Jump measurement Systems.
Stay tuned for more news during 2022